What we do

Our Approach:

One of the most important aspects of Attavola Tours is that we provide a local Italian guide, who can help you to avoid usual tourist pitfalls and lead you to the treasure troves of the authentic Italy. We have established relationships with locals and artisan food makers at all destinations on your itinerary, therefore we act as a cultural and social bridge to the people, places and foods, that you will be experiencing.

Your Guide: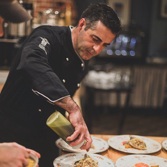 Food and wine guide, owner of Attavola Italy and co-owner of Attavola Usa, Gioacchino Passalacqua, born in Sicily, is an Italian food and wine importer/exporter, gastronome, tour guide, adventurer, who divides his time between Sicily, the rest of Italy and the States.

As a good Sicilian native, Gioacchino has developed relationships with food producers, olive oil companies, chocolatiers, wine makers, confectioners, restaurateurs and chefs, even Michelin stars chefs. He also has traveled the world in his business as an importer/exporter, taking part in food shows from Paris to San Francisco to Chicago to the famous Fancy Foods Show in New York City. Gioacchino has developed a keen sense of quality foods and wines and he passionately shares the riches of the Mediterranean through his unique trips, tastings and products.

If you have any questions, Gioacchino can be reached at gioacchino@attavola.com